Een Workshop Graffiti in België voor het leukste team- of vereningsuitje
Een gezellige, originele, en onvergetelijke workshop graffiti samen met jouw verenging of club in België! Kruip samen met jouw teamgenoten in de huid van een echte graffiti artiest. Verf, kleuren, fantasie en vooral veel humor staan centraal tijdens deze workshop. Verwerk bijvoorbeeld allerlei leuke herinneringen en ervaringen in een "cool" graffitikunstwerk en maak een eigen Spandoek voor de club!
Een super mooi aandenken voor de hele groep!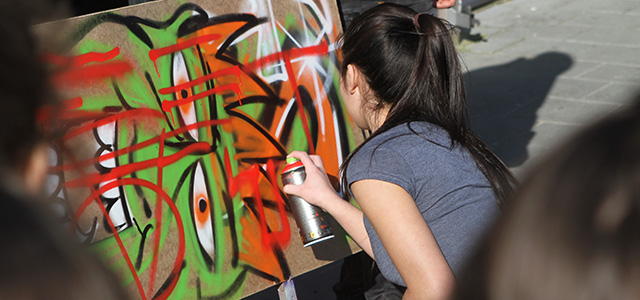 De volgende workshopvormen zijn inzetbaar als activiteit voor clubs of verengingen in België:
klik hier voor meer informatie over de prijzen, opbouw, begeleiding, materialen en locaties voor de workshop graffiti.
Wij bieden tevens de mogelijkheid om het programma van de clubdag uit te breiden met allerlei andere leuke workshops in België. Meer informatie over al onze workshops is terug te vinden op onze website van E-vent Entertainment.